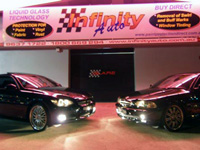 Feel free to use the email below for a free quote, a free inspection on your car or to send us your general enquiries.
Alternatively you can call us on 0409 747 978 / 0409 747 899.
Infinity Auto Protection believe firmly that to achieve growth you need constant and never ending improvement. We welcome any thoughts, comments, questions, testimonials and/or any feedback you care to provide regardless of wether it is praise or constructive criticism.
FREE INSPECTIONS
Visual inspections free to assess new / used cars.
Written reports / repair quotes / detailed photographic report on request.
*conditions apply
WANT A SECOND OPINION
Want to assess the condition of your car!
Just email clear pics of vehicle with brief note of requirements. Photos taken in direct sunlight are best to assess swirl marks/spider webbing.
Photos taken under fluorescent lights are best to asses damaged/scratched/defective paintwork.
If you just want a second opinion on work already done, same applies with photos.
CONTACT FORM