Infinity Auto Protection is regularly receiving testimonials such as these listed here. These come from client's from all areas of the industry and are relate to our applicator network, Magic Seal. The Magic Seal applicators are independent business owners and form part of the Infinity affiliate network. This simply means that they not only provide the hands and feet to our company, but sometimes, heart and soul as well. Our gratitude and recognition goes to all our Magic Seal applicators.
"Hi VJ,
Thank you for my products, received to NZ, safely the other week. Have now used them on one of my classic cars, a 69 Riley Elf.
Result; Brilliant. Just to advise you the products are superb.
Always been a high user of Mequires with all sorts of their products. But after using the Glare products, the result is stunning, mirror like finish.
Thankyou again VJ."
Cheers Mal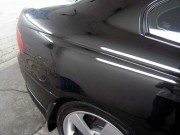 "I bought a 2004 CV8 Monaro, Phantom Mica (black). I have spent most of my life around cars and restoring them. I bought this car believing it to be accident free and it certainly looked great in the showroom.
I decided to take it to VJ at Infinity, whose reputation of being a perfectionist, I have known for some years now. I have seen VJ's work and it is most definitely "Second to None". If ever anybody could make a silk purse out of a sow's ear, VJ is the man.
I come from the Northern Rivers of NSW, some 9 hours drive from VJ, so that'll give you an idea of how much I respect his skills. Upon arrival at the workshop, VJ pointed out many things that I had not noticed with the car, including the fact that the left side of my pride and joy had been extensively repaired and that the entire car was full of black filler polish amongst other things.
I left the car with him for a few days and I got a blow by blow, pic by pic description of what VJ was doing with my baby. I saw all the black filler that was removed in the process and the horrendous buff marks that had been left by the car yard's so called detailer. I cannot believe the skill and dedication that VJ put into restoring what was a truly inferior finish on the vehicle.
I picked up the car ready for my drive to Lismore and was totally blown away. The car looked like it was still wet but it was in fact the mirror finish that VJ and Infinity are renowned for. I could read a book in the reflection. I also had the vehicle's interior protected with VJ's custom products and needless to say, by the time he'd finished the car looked better than new.
VJ is one extremely talented man and has, in my opinion the best product on the market. Many people ask me how I got such a great finish on the car and they find it hard to believe that the finish was so inferior prior to VJ working his magic on it.
As I've said, this process is second to none and I highly recommend it to anyone wanting to protect their investment, either new or preloved. All you classic and vintage owners should seriously consider this product as it is the best insurance for you pride and joy's finish that exists.
VJ and Infinity… WOW… simply the best!!!!!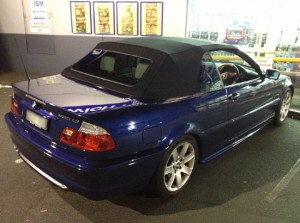 Rob
Northern Rivers, NSW

"3 years later and it still shines like new.
No wonder I talk about you all the time!
And it's NOT because I'm gay…"
BMW Owner
"Just letting u know I got my package this afternoon. Great service. Very quick delivery. Very good communication. Thank you. I'll recommend u to everyone I know. Cheers."
Pete (Wollongong)
"Unbelievable…
Huge difference in colour and gloss…
Love the work!!"
Happy Customer
"VJ, It's Ssteve here. Your product is the best by far!! Ive used them all – Auto Glym, Meguires, Juice, Farecla… Nothing comes even close!! My car is GLOWING!!!! You're a man of your word. Thank you for making my car look AMAZING!!!!"
Steve
"I have purchased several paint ptotection kits over the years and I have got some great advice from you over the years. We have 3 cars in the house and all have your paint protection. I also reapply every 2-3 years and wash with your shampoo. I have also recommneded your product to every person who admires my car.
I recently sold a car that was 12 years old and it had a better finish than 2 year old second hand car I just purchased."
Migara
"Just wanted to say how fantastic your DIY used car kit was on my 2011 Hyundai Elantra. It's white but it shines like an angel, and it is so easy to clean! I wish to make an enquiry about purchasing another DIY kit for my father's commodore.Many thanks."
Paul

"Happy New Year to the "Glare People"
I wanted to thank you for a great product. Last year I was skeptical as I purchased the the Air Glare for my Cessna 180 Float Plane. I fly year round from the saltwater of the Pacific Ocean on Vancouver Island, heavy rain, snow, frost, hail and lots of bird shit. But I am impressed, the initial shine was spectacular, but what really made me a believer is that washing the plane with the ultra wash made it look like I waxed it the day before. Thanks Guys, you nailed it with this
formula."
Louis
WestCoast Wild Adventures
"Hi Vijay, keep meaning to text u and thank u for all of your help and service. Finished doing my GTI last weekend and has come up like a dream. Very happy and will certainly continue to recommend to others.
Cheers"
Anthony
"Got the car wash & polish on Friday, good service!!!
Thanks."
Tom
"Hi Vijay,
This is to thank you for the wonderful job that you have done with our Car (Toyota Touring). It is shining and looking very nice :).
As regards to my car (Mazda Tribute – Silver Colour) which you had a look, as per your advice, I am considering doing it myself with your products and instructions.
Thanks you again for the fantastic work and for your time.
Cheers."
Naish
"Hi VJ, i would like to thank you for the guidance that you gave me after purchasing the used car kit. I have been searching most of my life for a system as good as this. I have completed our 3 cars and i could not be happier with the results. The thing that surprised me the most was that at the end of the job there were no buff marks after using the buff. If anyone told me about the products without me seeing it myself, i would not beleive it. It seems that they are miracle products. As soon as i can i will send you photos of the 3 cars."
John
"Hi VJ,
Thank you for work you did on my Mercedes. My thoughts on it; ABSOLUTELY BRILLIANT! I am very satisfied and the work you did went beyond all my expectations.
Thank you very much for your effort.
Once again many thanks and I will pass on your service to everyone I meet."
John
"Hi VJ
Just wanted to write to let you know how much I appreciate the work you did on my Audi Q5.
For the benefit of anyone reading this, I looked at paint protection offers from various companies but wanted to back that up with knowledge on what paint protection is. This research failed to turn up much more than 'waste of time and money', as well as 'just keep it clean and wax regularly'. However I did find a few references to products that people were willing to swear by and the caution that without proper application you would still be wasting your time and money. This is what led me to Infinity Auto, great feedback on their product and service.
After speaking to Infinity Auto I felt confident that their knowledge and experience were the backup I was looking for, and that there were a lot more factors to consider in maintaining the finish of my car than I had been aware of. For instance I would not have known the difference if the paint still had transport wax on it, would not have known how to properly clean the surface as preparation for the product, and would have struggled to match the skills required. Infinity Auto provide a superior service, great insight and advice backed by significant experience.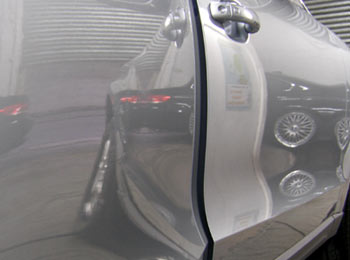 I did speak to other companies, I did look at many points of view, by the time I finished it was obvious that Infinity Auto didn't have much competition in their field, and I wanted to give myself the best chance of keeping my car's value over time.
The car went from looking 'really good' to 'stunning'. The finish after the Glare product was applied is fantastic, it's a mirror finish, you can see the paint properly (bringing out the metallic paint beautifully). Not only that, its much easier to keep clean and looking good. Of course its going to take work from me to maintain but knowing what a difference it makes is great motivation, the product just makes it that much easier.
Never having owned a luxury car before I would have expected everything to be handed over in as perfect a state as possible, and this is as much based on a belief that there would not be much to do other than clean and polish the car! Hearing about the experiences of other new car buyers (luxury cars) and seeing demonstrated some of those effects myself, was a real eye opener.
The service is worth it, I drove 1500km round trip and can say it was well worth the effort, and a great excuse for a long drive to familiarise myself with the car as well.
Thanks again, your work is very much appreciated!
Kind Regards."
Clint
"Hi Vijay,
I felt I had to write to offer another testimonial for your products and service.
Yesterday I brought my car back to you as I had what I thought was tree sap on my bonnet and roof and I wasn't able to remove it myself.
I am glad I did bring it back to you as you quickly discovered that it wasn't tree sap, but in fact it was an oil-based varnish. It must have dropped on the car from a work site i parked near.
As the bonnet is aluminium the varnish was heated and set completely on there and was extremely difficult to remove.
The bottom line is that if I hadn't had your paint protection on the car, I would have been looking at an expensive re-spray. I would have been gutted if I had to re-spray the roof and bonnet of a three month old $80k car because of some stupid and careless action outside of my control. As it is, one would never even know it had happened.
Another glowing tribute to your products and service, Vijay. Thank you so much again for your effort and superb customer care.
Well done and thanks!"
Mark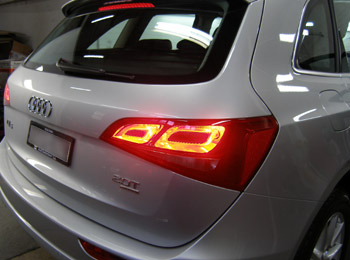 "Hi Vi Jay,
I wanted to write to tell you how pleased I am with my new car and the paint protection job you did on it. It looks superb!
I drove 5,000kms in my first month and collected a considerable amount of tar spots, dead locusts and various other potentially damaging materials. I followed your instructions exactly and the car has buffed up to showroom condition.
Actually, I have to say better than showroom condition. As you know, I brought the car to you two days after collecting it and was impressed with its condition and shine on delivery. Until I saw what you removed from the paintwork with your process and treatment. I have since treated my wife's four year old Golf with the same products you sold me. It is now better than the day we bought it from VW as a brand new car!
I am singing your praises to everyone and will recommend your services to anyone I knwo looking to improve tha appearance of their vehicle.
I am also about to treat my Vespa with your products and will let you know how I go!
Cheers."
Mark
"Hi VJ
I would just like to say a big thank you, my car looks fantastic!!
It's black, it's shiny & it looks fabulous.
My husband washed it the other day, it was so easy and the end job was amazing. You have definitely found a couple of supporters, I have told everyone I can about you.
After seeing what you have done with the Barina, makes me scared to even think about the job that was done on our Falcon. I can imagine… nothing… who knows they may have only washed it. They definitely didn't clean it, I had to have it detailed when we got it home. Never again am I going to pay the dealer to have it done, when it is so quick and easy to have it done properly.
Keep up the good work, it is not often that you find someone that enjoys what they do. It shows in the way you present the car.
I cannot wait to see it on youtube and show all my friends.
Thanks again"
Louise & Scott

"Hi VJ,
How are you going? I would like to say a big thank you for making my car looks so nice. Its been two and a half weeks now and still looks very shiny even though its been raining and raining.
Yesterday, I've been to Phil Gilbert for the 1000km service and get them fix the issues that the Kluger has including the dent on the left side door that you found. They are going to fix that for me but I need to book the car in again sometimes next week or the week after. I would like to ask when they fix the dent will the paint protection that you've done be damaged? can that be avoided?
Anyway, thank you so much for your help, I am really appreciated for your work.
Take care and all the best in your business."
Peter
Wollongong
"Hey VJ,
Still enjoying the Glare… Just did the complete system on my new Golf GTI.
Gotta be happy with that!!!"
Cheers, Pete
"Hi Vijay,
Its Anthony here the guy with the black s3. Just letting you know the car still looks great!
I have another couple of referrals for you. Andrew and Callum should both be giving you a call over the coming weeks.
Has Aaron taken the s5 in yet?
Regards"
Anthony
"Hi Vijay,
I just wanted to say a big thanks for the fantastic work you've done on my car both with the paint protection, and more recently, repairing a major scratch for me.
Your efforts and workmanship are much appreciated and it's great to see good customer service is still alive and well.
I'm also impressed with your advice on maintenance and ongoing care.
Thanks for your help, and I look forward to dealing with you again in future."
Debra Daw.
"Greetings Shaida & VJ.
I would like to convey my sincere thanks for looking after me & my car today.
Having the option to stay & see what is involved in the process of paint treatment was a surprise to me & conveyed the honest & transparent approach that would have me recommend your business above all others in the field.
The passion & attention to detail that VJ displayed, made me feel confident in the investment I had made. My thanks also Shaida for sustaining me with coffee & food throughout the day.
I wish you all success & will see you again.
Best regards"
Chris

Chris
"Thanks again for doing my car, it looks great. I love sitting there looking at the paint work, you're absolutely amazing, and very dedicated to your work, great to see. Thanks again, cheers."
Michael (Lite n Easy)
"Just want to thank you for the amazing job you've done to my car. Even though the car was only 3 days old, but you've made it far much better than the day I picked it up from the dealer. The mirror finished was brilliant considering the car is a white colored one. Also for the educational information you've shared, is much appreciated.
PS: Thanks for the shout of a nice cup of coffee…"
Vincent

"My brother has just purchased some of your gear for his new car and is just raving about it. Can please provide an indication of what I would need to do my car. I have a BA XR8 in the Green colour called Envi. It is 3yrs old and in fantastic condition paint wise with the odd scuff mark here and there. It has leather interior as well.
I want to stop spending every third weekend with the Maguire's waxing it and start living a little. I want to have the show room finish inside and out. I would also like to know the closest outlet to me as I live in the lower Blue Mountains in Western Sydney to collect the products and maybe a shake down on what to do and what NOT to do.
Looking forward to your feedback. I will be down ASAP to purchase."
Peter
"Vijay I thought I would send this quick email after my visit to you for the top up on my black Subaru. When the Glare Polish was first applied I was both shocked and delighted that my new car (including all the factory Subaru imperfections) could look so much better then the day I picked it up from the dealer. Since that day I have had multiple people stop me, including the service manager at Subaru and ask me what polish I use on my car. When I tell them I haven't polished the car since the day I bought it, the most common reply is you're kidding mate. That is when I tell them about the Glare product and your business. I can say with no hesitation that the Glare polish is a great product but is only half the equation in my book, as I could honestly say that you would have to be one of the most professional and honest businessman I have ever had the joy to deal with. When it comes to preparing and applying the Glare product you work like a surgeon and are so passionate about your work and it shows in the final product which is a black Subaru with a truly mirror like finish. I have also become one of those fastidious car owners that look at friends cars and pick their paint work to pieces, which doesn't always make them that happy but I tell them that with a visit to you they too can have a gleaming car. I hope this email doesn't sound like one of those American info commercials but I can honestly say that this is the way I feel."
Paul

"Just wish to say thank you so much for the time and effort that you have put into my wifes vehicle (Black Ford Territory).
It is simply amazing. I can't tell you how much that I wish this was the finish that was on the vehicle from new.
Will be in touch shortly for some of that magic product for the plastic parts of our cars.
Will also be seeing you for the top up in 6 – 8 months.
Again, really appreciate the work you have done inside and out."
Mike

"While on holidays in Queensland with my family I bought a Statesman and the color is Vespa Blue. The dealer told me to treat the paint with a product called Glare sold by a company called Infinity and you wont regret it and you will remember my words. So I got the car back to Melbourne and I looked you up on the Net and I ordered your products. The car was polished by the dealer but nothing to what it looks like now. It's like glass and everybody asks me what polish I have used to get this shine and I give them all your website and so far 3 have bought your products, but my car is a testimony that your polish is the best thing that I have used and I will always use it. It is so easy to wash and it SHINES. Thanks for a fantastic product."
Paul
Epping Victoria
"I am the president of the Audi S3 Driver's Club and have had my yellow S3 treated with your exclusive Glare paint sealant. I am thrilled with the finish your treatment gave to my car and also the added advantage of removing any `swirl marks' left on my car by the dealership at pre delivery.
The car always has a great shine and is always so easy to clean . The advantage is that now I don't have to buy all those expensive wash and wax treatments that take half a day to rub on.
On my return from a country trip, I found it too easy to wash all the dead bugs off the front of my car – leaving that great job to look at.
Your treatment has saved me hours of wasted time and my car always looks good. I must recommend this treatment to any car enthusiast who wants to keep their beloved vehicle in concourse looing condition."
Douglas
President
Audi S3 Driver's Club
"Customers who have had their vehicles treated have been so impresed that some have also had additional vehicles treated."
David
Used Vehicle Sales Manager
Canterbury BMW
"We have no hesitation in recommending Magic Seal Protective Coatings to anyone who is looking for a professional outcome and high customer satisfaction."
Stephen
Sales Manager
AUDI Centre – Brisbane
"Dear sir,
Thankyou for your demonstration of `Glare' polish on the Royal Flying Doctors & Aero Pearl King Air 200's, and also a 737 Virgin Airline aircraft. We have found the results to be excellent.
We have been using `Fireglaze' over the past 12 years with good results, however, the results of the new `Glare' product are outstanding.
We are looking forward to recommending the use of `Glare' on all our future aircraft."
Douglas
Douglas Aviation Pty Ltd
"We have been using `Glare' polish on our Hawker 800XP for the past two years. It far exceeds anything we have tried in the past. The shine is brilliant!
I believe the paint will last twice as long because of the exceptional protection afforded by Glare Polish.
Thanks for a great product!"
Mike
Director Aircraft Maintenance
Cracker Barrel Old Country
"As storekeeper for the Air Support Division of the Los Angeles Police Department, I purchase the necessary products for use on all of the helicopters for this division. The police personnel continue to request this particular product for its superb consistency and ease in application. Furthermore, the cost benefit for use of this product actually figures into a 5% – 10% savings in fuel due to lessening of the drag co efficient created by this product. Our personnel prefer it to all the polishes available on the market including the well known brand, Meguiar's."
David
Storekeeper
ASD, LAPD
"I just wanted to say thanks again for the photos you sent to me (and I received) last week. Whilst at it, I just wanted to thank you for all the work you have done on the car and in general to tell you how much I am impressed with the paint protection that you had put on. The car looks a million times better now, keeps cleaner & is so much easier to wash. With the car being black, before this protection being applied I was at the point of selling the car as I just couldn't get it to come up the way that it should after being washed, the swirls were driving me crazy and the car was always filthy.
Then, after taking it to you and you taking you taking the swirls out and applying the paint protection treatment, the car simply gleams. Before this treatment, it would take me hours to wash the car, but now within an hour of starting, the car will look like it has just come out of a showroom. The net result of applying the paint protection on the car is unbelievable and money very well spent for me. I know who I will be ringing as soon as I buy my next car or anyone I know asks me about it!"
Viktor

"Dear Sir/Maam
I have just recently bought a brand new car about two weeks ago, it came with a paint protection product called crystal Elements VIP Vehicle Proctection they call it. It was part of a package if I bought the car.
My Question is Last year I bought Glare Infinity Plus for my import and was amazed and totally happy with this product as it has a superior finish and shine compared to this Crystal Elements paint protection that came with the car. Can I just after two weeks apply Glare Infinity Plus to my new car on top of this product called Crystal elements.
Look forward to you advise, from a very very happy Glare Infinity Plus product user of the past."
Darren

"The Dino looked terrific at the Fiat,Lancia & Alfa Concorso last weekend.Thanks for a good job.I managed to hand out about 6 or 8 of your brochures.
Suzanne,my wife,drives a 4 year old Mercedes "A Class 160",Silver Metallic,& I would like you to advise me what you would charge to detail the exterior with your long life protective products.The interior does`nt matter…
Please let me know.
Regards,"
Paul

"Hi Vijay,
Just touching base…….
Car looks great !
As you know, I was a bit worried when I first showed you the car with excessive scratch marks caused by car wash café's and also waterless car washes.
At worst, I was looking at getting the bonnet re-sprayed to restore it back to factory condition.
But, with the use of your product, and your craftsman skills, you've given me back my car in better condition than as it rolled out of the factory !!
Sensational work mate !!!
The product is truly awesome, and only cost a fraction of what I would have had to pay to get the paint restored at a paintshop.
Being a black car, it was difficult in keeping clean, but now, it's so easy and quick with the products you have provided.
Also, many thanks for taking the car at such a short notice….. very much appreciated.
I need to pop-in within the next couple of weeks to pick some 'shampoo' for my car and also the full kit for my wife's new car.
Take care, and see you soon."
Tony

"Hi my name is Elvis Ryland. I am the Director of First Rate Automotive Solutions Ltd here in New Zealand.Just recently I had a customer who wanted your Infinity paint protection applied to his blue 535i bmw.Combind with the ultra wash ,spiderweb swirl and the Micro Precleaner that he supplied and easy instructions, the finished product was awesom.I could brush my hair in the work.It was the best $200 I had made.Because of this, Iam now looking at making your product part of my business.Your Infinity range I dont think is availible in nz, but I look forward to making a
purchase in the near future.
Thank you and enjoy the rest of your day."
Elvis
Director
First Rate Automotive Solutions Ltd
"Thanks Once Again VJ car looks unreal. Really appreciate it. Hopefully i can send some people down to get there cars done.
Let me know if u need anything from Samsung."
Steve

"Vijay,
I wanted to thank you again for your professional service and fantastic product. Sorry for being a pain I appreciate all you have done and for treating my wife so well. I will recommend your treatment to my friends and family."
Scott

"Hi VJ,
First I would like to thank you for the 3 days we spent with you and your wife. We really enjoy everything, especially your kindness and special training we received from you. So please thank your wife as well for everything. It was only after seeing you in action treating a car that we really started appreciating how good the whole thing is.Till then I had faith in the product but it wasnt 100%. Now after doing my van I have complete faith in this kind of business and im excited about the prospect and convinced of the success. My van looks so good that I cannot stop looking at it. So thank you again for the good training. It made all the difference.
Please send our regards to you wife,and we are looking forwards to a productive business relationship with you.
Thanks again for everything,
Best Regards"
Rami
Exclusive New Zealand Distributor
"VJ,
A couple of pics after polish."
Steve

(Ask about our diy buffers!!!)
"Hi Shaida,
Can you organize to send me a Kit that I can apply myself, I did a small section of the car specifically the boot and it was quite easy for me to do and the results were stunning. My car is a new 5 series BMW in carbon black from the dealer it had lots of swirl marks and small scratches that they said was normal with that paint, I spent 5 minutes with the pre polish and the paint looked like a mirror, I was stunned how good your product is and how easy it is to apply.
I will get great satisfaction doing the job myself and I have a perfect workshop to do the preparation.
Regards"
John

"Vjay,
Thank you for your phone service and patience in helping us use the glare products correctly. As you may know, we have been persistent in trying to prove that this product is what it is meant to be. First of all I will state that we are only amateurs, but have used the Glare products on our late model silver Toyota Prado, a white 1995 Toyota Hilux and a 1997 grey Nissan Pulsar. I have had others comment on how nice our vehicles have looked, but this next job was a real test of the glare products.
In the last week or so, we have had the challenge to remove bad scratches from a friends late model white commodore. The scratches were excessive, in fact probably a very rare instance where it seemed like someone had sanded the whole area of hood, boot and rear spoiler with medium sand paper – not something we expect to happen. The scratches were deep, very noticeable and widespread across the full areas stated. It was a very disappointing sight for the owner to find that a neighbor had done this to his car approximately 2 months before. I had shaken my head upon seeing this vehicle and called Paint Protection Direct for assistance to see if their products could achieve a desired result.
We tried Vjay's instructions to a small section for 15minutes to no avail. I called again and you were very confident if we followed your instructions, and used pressure on our low 500 rpm buffer (which we hadn't done on the first attempt) – that we would remove all the scratches, taking no layers of paint off with your (cut and polish like product –) GLARE KNOCK OUT. We used buffing machine and applied knockout several times per areas done for the deep scratches to be removed, but note that no paint layers were removed. If we had a more high powered buffer maybe the job would have been achieved quicker, but all scratches have been removed in about a day and half to the whole vehicle.
There is one very happy owner who now has his car looking like new again. It is really an amazing product – the 23 yr old young man who is the owner of the white commodore shared his joys over the phone with his father who has been very particular with polishing and keeping his own cars immaculate over the years, but he was a little dubious of the thought that a cut and polish like product would not take the paint off. They were going to go to a professional paint shop and probably pay $500 or more for the removal of the severe scratches and probably remove layers of paint as well, but instead "Glare Knockout" has done the spectacular job for less than $50 and a day or so of laboring with a buffing machine.
I have personally seen the before and after of this vehicle and assisted in the removal of scratches and polishing. The removal of these scratches with Glare Knockout has convinced me totally that this product is amazing, and too the results and comments from others I've had about the vehicles we have applied the Professional Glare Polish previously.
Don't just purchase the Glare Products and give up – practice, persist, talk and seek advice from the team at Paint Protection Direct and you will achieve amazing results in a very short time without taking ANY layers of paint off your vehicle. We will from now on always use Glare products on our vehicles and share Glare product results with as many as we can.
You know, it is a known fact that salesman only often tell what they want to tell, but I can honestly say that everything Vjay and his wife have shared about the capability of the glare products is all true and absolutely correct. They know their product and can confidently and honestly state the facts and capabilities to whoever enquires of the Glare Products. This is a product that proves that the information available on the website is exactly true of what it does.
If more panel beaters, paint repairers and car enthusiasts knew the capabilities of this product they would be amazed. It's a product that when you try to share with others how good it is, it nearly sounds like "TOO GOOD TO BE TRUE", BUT the fact is "IT'S SO GOOD AND IT'S SO TRUE"."
Mrs Sandy
Glenmorgan, Queensland